NVIDIA Reports Record Results For Second Quarter Of Fiscal 2008
Jens Neuschaefer
Product PR Manager, Central/Eastern Europe
NVIDIA GmbH
jneuschaefer@nvidia.com
+49 89 628350015
Informacje prasowe publikuje:
Katarzyna Kapłon, Ewa Rudkowska
Tabasco s.c.
ul. Stolarska 8/2
53-205 Wrocław, POLAND
tabasco@tabasco.pl
tel.: +48 (71) 3632947, +48 (71) 3632223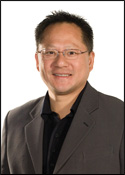 Jen-Hsun Huang - President and Chief Executive Officer
Marv Burkett - Chief Financial Officer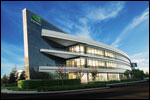 NVIDIA Corporate Headquarters, Santa Clara, California
NVIDIA Reports Record Results For Second Quarter Of Fiscal 2008
Company Achieves Record Revenue, Record Net Income, and Record Gross Margin
SANTA CLARA, CA—AUGUST 10, 2007—NVIDIA Corporation (Nasdaq: NVDA) today reported financial results for the second quarter of fiscal 2008 ended July 29, 2007.
For the second quarter of fiscal 2008, revenue increased to a record $935.3 million compared to $687.5 million for the second quarter of fiscal 2007, an increase of 36 percent. Net income computed in accordance with U.S. generally accepted accounting principles (GAAP) for the second quarter of fiscal 2008 was a record $172.7 million, or $0.43 per diluted share, an increase of 99 percent compared to the second quarter of fiscal 2007. GAAP gross margin improved by 280 basis points from a year ago to a record 45.3 percent.
Non-GAAP net income for the second quarter of fiscal 2008, which excludes stock-based compensation charges and the associated tax impact, was $198.1 million, or $0.51 per diluted share, an increase of 77 percent compared to the second quarter of fiscal 2007. Non-GAAP gross margin improved to a record 45.6 percent, an increase of 290 basis points from a year ago.
For the six months ended July 29, 2007, revenue increased to a record $1.78 billion compared to $1.37 billion for the six months ended July 30, 2006, an increase of 30 percent. GAAP net income for the six months ended July 29, 2007 was $305.0 million, or $0.76 per diluted share, compared to $178.8 million, or $0.46 per diluted share, for the six months ended July 30, 2006.
Non-GAAP net income for the six months ended July 29, 2007, which excludes stock-based compensation charges and the associated tax impact, was $362.5 million, or $0.93 per diluted share, compared to $223.2 million, or $0.58 per diluted share, for the six months ended July 30, 2006.
"NVIDIA delivered an outstanding quarter, with record revenue, record gross margin, and record net income. These results reflect the growing importance of the GPU as well as great execution across the company," said Jen-Hsun Huang, president and CEO of NVIDIA. "Our ongoing strategy to extend the reach of the GPU is paying off. There is a fast-growing universe of applications that rely on the processing capability of the GPU, from 3D design and styling tools, video and photo editing software, 3D maps, and video games, to the user interfaces of the Mac and Vista. The GPU can surely enhance the computing experience for everyone, from artists, engineers, and scientists, to gamers and everyday PC users."
"As the leading and only dedicated GPU company in the world, our opportunity has never been more exciting as the number of applications and digital devices that benefit from the GPU continues to grow," Mr. Huang added.
Second Quarter Fiscal 2008 Highlights:
The GeForce® desktop and notebook product lines each achieved record revenue. The desktop GPU product line grew 37 percent year-over-year, and the notebook GPU product line grew 129 percent from last year.
NVIDIA continued to capture leading share in five GPU categories, according to Mercury Research:

Total Standalone – 66 percent
Total Desktop Standalone – 65 percent
DirectX 9 – 64 percent
DirectX 10 – 75 percent
Total Notebook Standalone – 68 percent
In May, NVIDIA announced its most comprehensive and successful notebook GPU offerings to date. The new GeForce 8M Series GPUs are now available on the new Santa Rosa platform from top PC OEMs such as Acer, Apple, ASUS, HP, Lenovo, Samsung, Sony, and Toshiba. The two most notable design wins are the new Lenovo ThinkPad T-Series, NVIDIA's first ever with Lenovo ThinkPad, and the new Apple MacBook Pro notebooks.
In June, NVIDIA launched the Tesla™ product line, its entry into the high-performance computing industry. HPC Wire, the most recognized and accessed news and information site covering the entire ecosystem of high productivity computing, named the Tesla product line as one of the most significant launches in the HPC industry in the first half of 2007. The Tesla family consists of the C870 GPU Computing Processor, the D870 Deskside Supercomputer, and the S870 1U Computing Server.
The NVIDIA nForce® 650i SLI™ motherboard powers the new Maximum PC Dream Machine 2007. This is the third consecutive year in which an nForce product has been selected as the Dream Machine motherboard of choice. Maximum PC, the number one magazine for home computing enthusiasts, chose the nForce 650i SLI motherboard because of its over-clocking ability with quad-core CPUs and SLI technology support.
NVIDIA introduced an entirely new line of G8X-based next-generation professional notebook GPUs – the NVIDIA Quadro® FX 1600M, 570M, and 360M products. Each features the Unified Shader Architecture, Shader Model 4.0, and GPU Computing capabilities.
NVIDIA will conduct a conference call with analysts and investors to discuss its second quarter fiscal 2008 financial results and current financial prospects today at 2:00 P.M. Pacific Time (5:00 P.M. Eastern Time). To listen to the call, please dial (212) 231-2901. A live Web cast (listen-only mode) of the conference call will be held at the NVIDIA investor relations Web site www.nvidia.com/ir and at //www.streetevents.com. The Web cast will be recorded and available for replay until the Company's conference call to discuss its financial results for its third quarter fiscal 2008.
Non-GAAP Measures
To supplement the Company's Condensed Consolidated Statements of Income presented in accordance with GAAP, we use non-GAAP measures of certain components of financial performance. These non-GAAP measures include non-GAAP gross profit, non-GAAP net income, and non-GAAP diluted net income per share. In order for our investors to be better able to compare our current results with those of previous periods, we have shown a reconciliation of GAAP to non-GAAP financial measures. These reconciliations adjust the related GAAP financial measures to exclude stock-based compensation, a non-recurring credit associated with the net cumulative impact of estimating forfeitures as a result of the adoption of SFAS 123R, and the associated tax impact, where applicable. We believe the presentation of our non-GAAP financial measures enhances the user's overall understanding of our historical financial performance. The presentation of our non-GAAP financial measures is not meant to be considered in isolation or as a substitute for our financial results prepared in accordance with GAAP, and our non-GAAP measures may be different from non-GAAP measures used by other companies.
O firmie NVIDIA
Firma NVIDIA Corporation jest światowym liderem w dziedzinie projektowania programowalnych procesorów graficznych. Firma produkuje nowatorskie urządzenia dla przemysłu komputerowego, elektroniki konsumenckiej oraz urządzeń przenośnych. Siedziba firmy NVIDIA mieści się w Santa Clara w Kalifornii, z biurami w Azji, Europie i w obu Amerykach. Więcej informacji można znaleźć w internetowej witrynie firmy pod adresem www.nvidia.pl.
Certain statements in this press release including, but not limited to, statements as to: the growing importance and uses for the GPU; our strategy; our opportunities; and the use of non-GAAP financial measures are forward-looking statements that are subject to risks and uncertainties that could cause results to be materially different than expectations. Important factors that could cause actual results to differ materially include: slower than expected growth of a target market; the impact of technological development and competition; delays in the development of new products or technologies; manufacturing or software defects; our reliance on third-party manufacturers; whether customers continue to adopt our technologies and products; general industry trends; changes in industry standards and interfaces as well as other factors detailed from time to time in the reports NVIDIA files with the Securities and Exchange Commission including its Form 10-Q for the period ended April 29, 2007. Copies of reports filed with the SEC are posted on our Web site and are available from NVIDIA without charge. These forward-looking statements are not guarantees of future performance and speak only as of the date hereof, and, except as required by law, NVIDIA disclaims any obligation to update these forward-looking statements to reflect future events or circumstances.
# # #
Copyright © 2007 NVIDIA Corporation. Wszelkie prawa zastrzeżone. Wszystkie nazwy firm i/lub produktów mogą być nazwami handlowymi, znakami towarowymi i/lub zastrzeżonymi znakami towarowymi ich prawnych właścicieli. Funkcjonalność, ceny, dostępność i specyfikacje mogą ulec zmianie bez powiadomienia.
Uwaga: W przypadku zainteresowania również innymi notatkami prasowymi dotyczącymi firmy NVIDIA, prosimy odwiedzić stronę informacji prasowych znajdującą się tutaj.